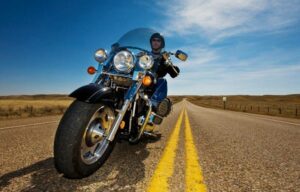 The Thomas Creech Law Offices in Greenville, S.C. represents people and families injured or killed in cases of motorcycle truck wrongful death accidents.
Accidents involving a motorcycle and truck are serious, often fatal, and necessitate immediate legal representation and attention. Many tasks need to be performed immediately including obtaining investigative reports. To protect your rights, we also need to launch an investigation into the accident immediately as well.
At the Thomas Creech Law Offices, we take very seriously cases involving motorcycle truck wrongful death accidents. These cases require attentive, thorough, conscientious, and committed legal counsel. And that is what we aim to bring in your case.
We are an experienced Greenville SC personal injury law firm. With twenty years of courtroom experience, including as a judicial law clerk and a prosecutor in the 13th Circuit Solicitor's Office, our law firm enjoys representing people and families in serious motorcycle truck wrongful death accidents.
Each year there are accidents on the highways of South Carolina, and right here in the upstate, involving negligent truck drivers and other vehicles. Some potential causes of these accidents range from a sleepy driver, following too closely, and distracted truck driver.
Another cause of motorcycle truck wrongful death cases is a truck driver failing to yield to the right of way of an oncoming motorcycle. Sometimes a truck driver will try to cross oncoming lanes of traffic in an attempt to turn. However, a truck may not make the turn with caution or with careful attention and, as a result, hit a motorcycle, causing serious injuries or death.
Motorcycle riders are much more susceptible to serious personal injury in an accident involving a truck. When a motorcyclist is hit and killed by a negligent truck driver, it is considered a wrongful death.
Injuries sustained in motorcycle truck wrongful death cases can involve pain, suffering, lost wages, permanent impairment, lost ability to earn future wages, scarring and disfigurement, and even death.
In a wrongful death case, a person will be appointed by the Probate Court as the personal representative. An attorney who works on cases of motorcycle truck wrongful death accidents will ordinarily have the experience and legal knowledge to explain to you who the court will appoint as the personal representative of the estate of the deceased.
Wrongful death cases seek monetary compensation for loss of a loved one-and the normal grief, shock, and loss of society family members experience after a loved one dies. Also, in wrongful death cases, we seek to obtain compensation for future lost earnings and lost wages of a deceased for the protection of a family's future financial obligations. To that end, we will investigate and seek to obtain all sources of possible insurance policies that provide coverage in the motorcycle truck wrongful death case.
Things you should avoid in cases of  motorcycle truck wrongful death accidents:
Avoid the insurance or trucking company. If you receive a call from an insurance company or the trucking company, you should avoid speaking with them. Retain a lawyer immediately who will know how to properly and appropriately respond to the insurance company or trucking company after the accident.
Avoid being solicited by an unethical law firm. If you receive a call or an unannounced, uninvited in-person visit either at your home or hospital room from a person claiming to be a law firm investigator, be careful and do not talk with them. It could be a law firm trying to unethically solicit you as a client. You do not want to hire an unethical law firm.
Do you really want a law firm that advertises its services on television? Be careful about hiring a law firm based upon its television advertisement-a law firm that advertises on television typically has a lot of cases and it may not be able to deliver thorough, personal, attentive, or aggressive representation. Moreover, the law firm may not even be local.
Motorcycle Truck Wrongful Death Accidents
At the Thomas Creech Law Offices, we handle cases of wrongful death involving a motorcyclist hit by a truck. As part of our representation, we will actively become involved in the case early on so as to preserve evidence and to start what may be an involved legal process. Its our hope and our goal to handle your case, in an efficient, expedient, and fair manner. The earlier we can start the case, the earlier it will get resolved.
We will get to know our client and the family so that we can provide personal, in-depth representation. We believe that focused, thorough, in-depth representation gives the case and the client a better chance of a successful case resolution.
We are experienced in the courtroom and at the negotiating table in all types of personal injury claims. We take pride in bringing our 20 years of courtroom experience to the negotiating table. And if we are not able to achieve a full and fair settlement, then we are committed to developing and presenting the best possible case to a jury. And while no lawyer or law firm can guarantee any type of outcome to a client, we will give our best legal opinion and judgment on what we think could happen in your motorcycle truck wrongful death case.
Usually in cases involving motorcycle truck wrongful death personal injury cases, we charge attorney fees on a contingency basis. That is, our attorneys fee is contingent upon there being a financial recovery in the case. The attorney fee is a percentage of the gross or total settlement amount before any other fees, case costs, or other bills, assignments, or liens have been paid or satisfied. Our law firm will also usually advance the costs of the case up front as well, to be reimbursed after a financial recovery in the case.
We know that in the aftermath of motorcycle truck wrongful death accidents, there are many serious legal, financial, and insurance issues that require immediate attention. We also know that families are processing emotions surrounding the loss of a beloved family member. Those emotions are normal. Give us a call for help. By retaining our law firm, you can let us be your advocate, your voice in seeking justice for your lost family member. And you can allow us the privilege of handling the many legal issues that will arise.
For a free private telephone or personal consultation in your motorcycle truck wrongful death case, please call locally in Greenville at 864-235-4999 or toll free 1-877-236-4999. Or you can send us a private message on our website contact form.