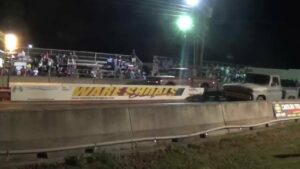 A Ware Shoals Dragway race accident on Saturday night took the life of a 38 year old man. Witnesses saw his vehicle leave the track, flip several times and then land on a group of vehicles along the side of the track.
According to media reports, the driver died at the scene. However, another man, as well as a 3-year old child, were both sent to the hospital after being injured.
There are many similar stories in this sport. Although there have been advances in safety technology and limiting speeds in an effort to reduce deaths, they still occur.  Unfortunately, it is only the major accidents that increase safety measures and get rules changed. One of the worst accidents on record is Pierre Levegh's 1955 crash at Le Mans that killed him and approximately 80 spectators with over 100 being injured in total. Perhaps the current safety measures are still not good enough.
We are still waiting for more details of the accident and the status of the injured bystanders to be released.
Do you think this death could have been avoided?
Do you think the driver was using any safety precautions?