Greenville SC medical malpractice lawyer Thomas Creech understands that anytime there is a need for medical care, patients trust their doctors and other medical providers to deliver necessary medical care in a competent, professional, and conscientious manner. After all, patients put their lives, their health, and their future in the hands of the medical providers. And, it is completely normal for patients to trust the health care professionals to do their jobs.  Patients and their families expect medical providers to keep them safe.
You Need Someone To Fight For You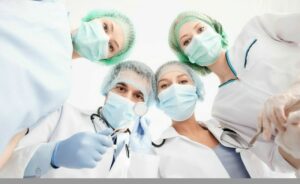 Unfortunately, sometimes, health care providers provide poor quality medical care to their patients. Ultimately, when doctors and other health care professionals fail to comply with the medical standard of care, they breach their patients' trust and disastrous consequences and patient harm can follow.
Greenville SC Medical Malpractice Lawyer
Our firm is here to help you recover compensation for your injuries.
We are here for patients and their families who have been injured by medical malpractice.  For over a decade, medical malpractice lawyer Thomas Creech has represented patients injured or killed by medical errors. We have been there for our clients in some of the most complex medical malpractice cases. Our firm has fought and won monetary compensation for the harms and injuries medical providers have caused our clients and their families.
IF YOU OR A FAMILY MEMBER HAVE BEEN HARMED BECAUSE OF MEDICAL MALPRACTICE CALL OUR OFFICE TODAY. YOU MAY BE ENTITLED TO SUBSTANTIAL FINANCIAL COMPENSATION FOR YOUR INJURIES.
In this day and age of mass produced, profit-driven health care, hospitals have turned into factories where patients are placed on the medical assembly line. Unfortunately, it is in this environment that  mistakes and negligence can occur. Medical malpractice, also known as medical negligence, occurs when doctors or other medical providers violate the medical standard of care while treating a patient, and as a result, a patient is injured.
Fortunately, our judicial system provides a forum so that evidence of doctor or nursing malpractice can be heard by a jury.  In fact, compensation can be sought for those injuries caused by negligent, careless medical providers who have fallen below the standard of care.  Our judicial system allows for careless doctors and other medical professionals to be held accountable for their mistakes and the harm they have caused.  In fact, the laws of negligence apply to everyone—including doctors, hospitals, and other providers. Holding careless medical providers accountable is good for everyone -because it serves to protect us all from injury and negligence.
You are not alone. Regrettably, many studies have determined that preventable medical errors are at epidemic proportions in the United States today.
Injuries caused by medical error are usually preventable. A preventable medical error should have never occurred in the first place. However, often times medical staff are too busy to pay attention to a patient and then fail to provide the patient with the care that the patient deserves and is entitled.
In a medical malpractice case, a lot of times it simply comes down to whether the health care provider did his or her job. Or,  were they too busy?  Was the physical examination done in a thorough, conscientious manner?  Was the chart read correctly?  What tests, if any, were done to rule out a serious condition?  Did the doctor follow a differential diagnosis to eliminate the worst possible condition first? As a result, malpractice attorneys perform an extensive investigation to answer these questions.
Sometimes there can be a situation where a simple, inexpensive test, like an MRI or CT scan, was not ordered or performed. The test could have saved the patient from serious harm or even saved a patient's life. Perhaps, it even could have potentially saved hundreds of thousands of dollars in medical care for injuries that resulted because that simple test was not performed. Thomas Creech is an experienced medical malpractice lawyer who will investigate your case to determine if the test should have been ordered or performed. Consequently, we review all areas of potential medical malpractice to see if that was the reason for patient harm.
Thomas Creech represents patients in the following types of cases:
A failure to diagnose an illness or condition such as cancer
Failing to make a proper medical diagnosis
Failure to properly treat an illness or condition
Improper performance of a surgery
Surgical injury or mistake
Medication errors
Birth Injuries, including cerebral palsy
Infection-failure to recognize or treat infection in a patient
Blood clots-deep vein thromboses, or pulmonary embolism
Ruptured appendix cases
Failing to diagnose and treat sepsis
Nerve injury after carpal tunnel surgery
Compartment Syndrome leading to amputation
Hospitals can be held accountable because of mistakes or negligence by nurses and other staff. For example, these include:
Patient falls-failing to prevent a patient from falling by not properly supervising or monitoring a patient by a nurse or hospital staff
Pressure sores or pressure wounds
Incorrect administration of medicine
Failing to follow doctors orders in the care of a patient
Failure to properly supervise or watch over a patient
Medical malpractice cases are complex cases that usually involve serious injuries. Therefore, these cases require an extensive investigation. You need an advocate on your side. Ultimately, if you believe that you or your family member have been injured as a result of medical malpractice by a health care provider, call us at 864- 235-4999 for a FREE consultation to discuss your case.