Personal Injury Attorney in Greenville SC
With 20 years of courtroom experience, personal injury attorney in Greenville SC, Thomas Creech offers bold and fearless representation to people and families in serious personal injury cases.

As a result, over the years, we have recovered millions of dollars in compensation for seriously injured clients harmed in:
Motor Vehicle Accidents
Tractor Trailor Accidents
Accidents Occurring at a Business
Victims of Medical Malpractice
People Falsely Arrested
Injury Caused by Defective Products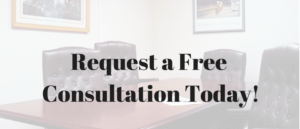 Your case is serious to you and it is serious to us. Regrettably, we understand how an injury can change your life and your future. Therefore, we are committed to vigorously protecting your rights and interests in your personal injury case. And, we are committed to the aggressive pursuit of justice in your case.
Thomas Creech is a native of Greenville and lives here in our community today.  In fact, he began his legal career in the courtroom as a law clerk to a circuit court judge. After that, he became a prosecutor in the 13th Circuit Solicitor's Office. Consequently, as a prosecutor, he worked with law enforcement in the courtroom seeking justice for victims of crime.  Presently, Thomas Creech represents people and families in serious injury cases. Therefore, to each case, he brings the advocacy skills he has gained over his 20 year legal career.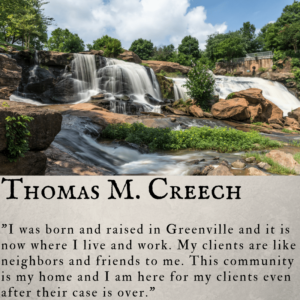 Your Local Law Firm
Our Practice Areas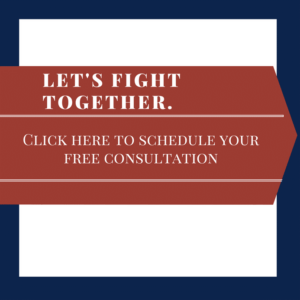 Personal Injury Lawyer
Thank you for visiting our site. We believe that our approach of bringing an intense focus to each individual client and each individual case delivers a better chance of a successful resolution for our clients. Ultimately, our clients  come first. We are a firm that prides itself on providing personal attention to our clients. For this reason, the better we know you, and the better we know your case, the better we can represent you. We do not advertise on television. Moreover, we limit this practice of law to representation of families and individuals in personal injury cases involving serious injuries.
Click here for more information about Mr. Creech.
Our firm is headquartered in Greenville – we are not an out-of-town law firm. In fact, our offices are conveniently located and offer plenty of parking. Actually, we are located at 124 Edinburgh Court, right off of Pleasantburg Drive near the University Center-old McAlister Square. In addition, we are available to come to you should the need arise.
Monthly, we write about different topics affecting our community or the legal world that we feel are interesting. So, check out our blog to read these interesting and informational articles. Additionally, for a list of Frequently Asked Questions we have collected from our clients visit our FAQs page.
Please contact us directly if you are looking for a personal injury attorney in Greenville SC. Even if you don't think you have a case, we are here to answer your questions. Call today for a FREE legal consultation.