What is HIE?
Hypoxic-Ischemic Encephalopathy, (HIE) is a brain injury caused by lack of oxygen to the brain. It is also more commonly known as intrapartum asphyxia. If HIE occurs, it may lead to severe developmental or cognitive delays, motor impairments or even Cerebral Palsy. Unfortunately, HIE can happen at a variety of stages. These include, prior to birth, during the birth process, after birth, or even during childhood.
Presumably, when an expectant mom goes into labor, the family trusts the staff to supervise and monitor as she progresses. This duty includes close monitoring of fetal heart rate strips by the medical providers. The fetal heart rate is the baby's way -and only way- of communicating with the medical providers.
Therefore, when during labor, a baby's fetal heart rate shows signs of distress, the health care providers need to act. Even so, performing a Cesarean Section to rescue the baby. HIE is preventable. Incidentally, if it has occurred before, during or after the birth process,  it is possible that a physician's medical malpractice is to blame. If your doctor failed to provide the necessary level of care that you required throughout the course of your pregnancy and your child suffered from injuries as a result, you may be entitled to financial compensation.
Why do you need an HIE Attorney?
HIE birth injury cases are complex cases that require the knowledge, resources, and determination of experienced legal counsel.  If your child suffers from cerebral palsy or other birth defects that you believe were caused by conditions during labor and delivery, please call our offices so that we may arrange a free, personal, and confidential consultation in your case. Our HIE attorney is ready to provide you and your family with legal assistance.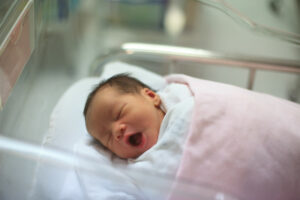 Children with cerebral palsy will usually have a lifetime of disability and will need a lifetime of medical care and therapy and assistive devices, such as wheelchairs, crutches, and specialty transportation vans.We are here to help families who have had children injured during labor and delivery because of obstetric physician or nursing negligence.
Having represented clients in litigation involving HIE injury, the Thomas Creech Law Offices has the experience to win these cases. We are conveniently located in Greenville, SC,  and will personally meet with you for a confidential, free consultation.
We know how difficult this time is for you and your family. Our job is to make it less difficult. Contact us today.