Greenville SC Premises Liability Lawyer Thomas Creech has experience representing Upstate families in the following types of cases:
Slip and fall
Falls caused by floor mats in a store
Safe display of merchandise
Falling merchandise
Lack of security
Dark stairwells
Improper construction
Unsafe common areas
Icy conditions
Wet conditions that make property unsafe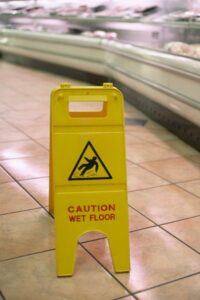 A big-box store, or other commercial business, must keep its property in a reasonably safe condition so that customers do not become injured while on the premises. Stores must display their goods in a safe manner.  In addition, an establishment must provide adequate lighting of its premises.  Also, aisles should be clear of debris, hazardous spills, and slippery substances. When a customer is harmed by a dangerous condition while at a store, restaurant, or other commercial establishment, the customer may have a legal right to seek compensation for the injury and losses sustained.
Do Not Delay
If you've been hurt in a slip-and-fall or other incident on commercial property, you should call a lawyer experienced in premise injury cases as soon as you can. The witnesses and evidence you need to pursue a claim can be very hard to find if you wait too long.
Free Consultation from Greenville SC Premises Liability Lawyer
You need someone on your side quickly after an injury. Commercial businesses know how to be friendly while protecting themselves from claims.  Sometimes they will make it hard to get the documentation and eyewitness accounts you need. If you don't have an aggressive Greenville SC premises liability lawyer fighting for you, it can be very hard to win.
It's also important that you do not talk to anyone about your claim without having an attorney on your side. Neither should you endorse a check or sign a release. In fact, commercial businesses know that any statement from a person who doesn't have a lawyer will help their defense.
Thomas Creech is a personal injury lawyer Greenville SC and has experience in premises injury cases.
You need an experienced premises liability lawyer to help you get the compensation you deserve for your injury.
A customer can be seriously and permanently harmed by a dangerous condition on the premises of a commercial establishment. In addition, a personal injury can produce life-long permanent disability or damage.  However, attorney Thomas Creech has experience representing people hurt in accidents that occur on commercial establishments in South Carolina and we can help you!
Even if you're not sure if you have a case, feel free to call us at 235-4999 for a complimentary consultation. Additionally, if you are concerned that your rights are not being protected, or if you just want to know the law regarding premises injury cases, give us a call!
Additional resources: