A Greenville SC pedestrian fatality car wreck occurred around 7:15am on Saturday, August 20, 2016, on Locust Hill Road.  According to media reports, the 61-year old victim was hit while walking on the side of Locust Hill Road in Greer. According to media reports, a Traveler's Rest man driving a 2008 Ford pickup truck ran off the road and hit the pedestrian, killing him. Both the truck and the pedestrian were traveling in the same direction. Media is reporting that the driver of the truck was charged with "driving too fast for conditions".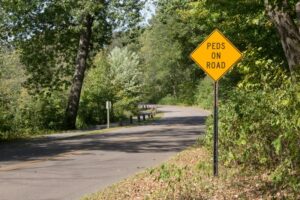 According to the Insurance Institute for Highway Safety, in 2014, pedestrian deaths made up 13% of the total auto-related deaths for the state of South Carolina. Do you know someone who was hit by a driver while walking? They or their family member may need legal assistance.  Call us at 864-235-4999 to find out.
USA Today reported in 2014 that South Carolina was ranked one of the top 10 most dangerous states to be a pedestrian in.
The pedestrian fatalities were 2.6 per every 100,000 people. Pedestrian fatalities totaled 123 in 2012, making South Carolina the 11th highest in the country. It was also ranked the 13th highest for total traffic fatalities with 863. Between 2010 and 2012, in South Carolina, 34.0% more pedestrians were killed in traffic accidents per 100,000 residents, substantially larger than the national growth.
Under the law in South Carolina, drivers have a duty to keep a proper lookout and avoid hitting or colliding with pedestrians who are walking on the side of the road or highway.  Moreover, drivers of vehicles must keep their cars or truck under control at all times. Drivers of cars and trucks have a duty to operate their trucks or cars at a proper speed for the conditions then and there existing.
This Greenville SC pedestrian fatality car wreck is a tragedy as a family has lost one of its members. South Carolina law allows a civil cause of action to be brought when a person is killed in a traffic accident. Its called wrongful death. The deceased's estate can bring all claims to compensate certain family members for the loss of their deceased family member. A wrongful death case allows for a wrongdoer to be held accountable for the harms and losses that he or she caused resulting in the death of a person.
Have you lost a family member in a Greenville, SC pedestrian fatality car wreck? If you have legal questions about the situation, feel free to call our office for answers to your legal questions.
Here are some tips from the Pedestrian and Bicycle Information Center on how you can keep safe from bad drivers while walking:
Wear bright/light colored clothing and reflective materials.
Carry a flashlight when walking at night.
Cross the street in a well-lit area at night.
Stand clear of buses, hedges, parked cars, or other obstacles before crossing so drivers can see you.
Always walk on the sidewalk. If there is no sidewalk, walk facing traffic.
Stay sober; walking while impaired increases your chance of being struck.
Don't assume vehicles will stop. Make eye contact with drivers, don't just look at the vehicle. If a driver is on a cell phone, he or she may not be paying enough attention to drive safely.
Don't rely solely on pedestrian signals. Look before you cross the road.
Be alert to engine noise or backup lights on cars when in parking lots and near on-street parking spaces.
Cross streets at marked crosswalks or intersections, if possible.
Obey traffic signals such as WALK/DON'T WALK signs.
Look left, right, and left again before crossing a street.
Watch for turning vehicles. Make sure the driver sees you and will stop for you.
Look across ALL lanes you must cross and visually clear each lane before proceeding. Even if one motorist stops, do not presume drivers in other lanes can see you and will stop for you.
Don't wear headphones or talk on a cell phone while crossing.