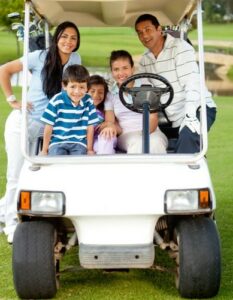 Even though you may not even play golf, you or your family may use golf carts as a way to get around your neighborhood or while on vacation. As recreational use of golf carts rises, golf cart injuries are occurring more often in our communities. Golf carts are popular alternative modes of transportation in neighborhoods.
The popularity of golf carts has been rising and continues to do so. These small vehicles, typically run on electricity, have become a convenient transportation option when cruising down the streets of your neighborhood. During the summer, you may see carts lined up in the parking lot of the community pool, grouped in front of a neighbor's house for a cookout, and even as a social outlet for drivers who travel up down the streets stopping to speak to neighbors as they pass.
Have you been injured while riding in a golf cart?
With the growing number of golf cart users, there is a growing number in golf cart injuries. Consequently, golf carts are fun and some golf carts can go pretty fast. Although the average speed of a cart is around 15 mph, golf cart engines can be "souped up" to get up to speeds close to 30 mph. However, most golf carts do not even have seat belts. Statistics and the evidence is starting to point to more serious injuries from golf carts including; head injury, brain injury, and even wrongful death. In fact, statistics are pointing to one death every week in the United States from passengers or occupants falling out of a golf cart. Most often, it involves a left turning maneuver.
Thomas Creech Law Offices is a personal injury law firm here for people who have been seriously injured in golf cart accidents.  
Statistics show that children and the elderly are among the most likely to obtain injuries involving a golf cart. In most states, children should be at least 16 years with a valid drivers' license to operate a cart. Many times, younger children, who are not properly trained or supervised, are driving – which can lead to accidents and injury.  In retirement communities, golf carts are a preferred method of transportation for the residents.
Here are some common ways that golf cart injuries occur:
Erratic driving by the golf cart driver
Impaired driving by a golf cart driver under the influence of alcohol or drugs
Pedestrian collision caused by an inattentive driver of a golf cart
Driver of a golf cart failing to lock the parking brake before exiting the cart
Overloading of passenger capacity
Failing to pay attention to surroundings and situation
Recklessly driving over steep or rugged terrain
Driving in a reckless fashion speeding down hills, corners, bumps, or public roads
Mechanical malfunction of the golf cart
Owner of golf cart failing to maintain the cart and allowing the golf cart to become defective
Owner failing to keep the golf cart's brakes in good and proper working order
Head or brain injury caused by erratic driving throwing a passenger or occupant from the golf cart
Allowing children to operate a golf cart and failing to supervise children while they use the golf cart
An unplanned loss from golf cart injuries
Whether it be incurred medical bills, lost wages, property damage, or personal injury, an unplanned loss caused by a golf cart injury can be devastating to an injured person and his or her family. With th
ousands of accidents happening every year from golf carts, there are many people who are left injured and even lose their life due to unsafe golf cart use. A serious and permanent personal injury may leave you with an inability to work and provide for your family.  As part of our case investigation on your behalf, our office will seek to determine the extent of your losses and will strive to recover all the monetary compensation you and your family deserve in your case. That way, you and your family can rest easy knowing that your future financial needs will be taken care of.
The Thomas Creech Law Offices is a personal injury law firm in Greenville, SC. We represent people in personal injury cases and claims in, for example, golf cart accidents.
If you or a family member have received golf cart injuries, feel free to reach out to us for a private, free, personal consultation.